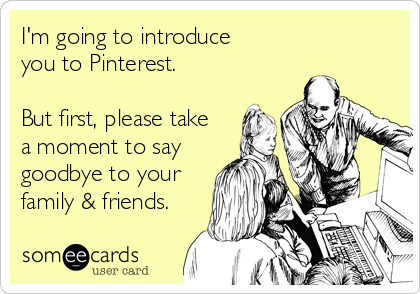 If you're reading this, you are alive in the year 2015 or later, and therefore you have heard of Pinterest. Maybe you don't know what it is, and if so, you're lucky in a way.
You'll learn a lot more about Pinterest than I'm going to tell you by
visiting the site
, or
downloading the app
, but here's the short version: I think of Pinterest like a cross between your bookmarks in your web browser, and your Movie/TV/Books likes on Facebook. A Pin is an image that that links to its location on the web, be that a website, or just a database of images. You "pin" pins to your pinboards, each of which represent a category of interests for you, and those boards are visible to your friends. Every time you pin something, it shows up in their Pinterest feed.
For the most part, Pinterest is a resource for girls to research hairstyles, makeup tips, recipes, and inspirational quotes. Hate me for stereotyping if you want, but you know it's true. Pinterest isn't exactly a sausage fest.
Not that there's anything wrong with hairstyles, makeup tips, recipes, and inspirational quotes. The point is, Pinterest isn't a social network that immediately strikes you as useful in your writing career.
But you'd be wrong. Not only is the site overrun with pins that link to brilliant writing articles, but the images themselves can serve a useful purpose to writers.
When you're describing a person, place or thing, you might start with a clear image in your head. But you might not. Maybe you know you want to set a scene in a church, but you don't have any specific church in mind. You can look for pictures of churches on Pinterest, and pin the ones that inspire you.
And when it comes to characters, you can search for pictures of the actors and actresses you would cast in their role if your novel were a movie. It might help you visualize them better, and provide more vivid description in your novel.
Another way Pinterest is helpful is as a source of inspiration. Aside from all the lifestyle tips and recipes on there, Pinterest is a repository for visual art. Everything from classical paintings to avant-garde sculpture can be found, and you never know what might inspire you. Sometimes images can be amazing writing prompts.
Most people don't realize it, but writing is a 24/7 job. Writers should always be on the alert for ideas, random facts, beautiful words, and inspiring images. Pinterest is a great place to find these things, and it's a great way to organize them so they fit into your writing routine.